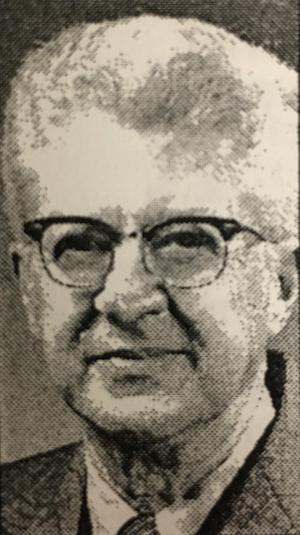 YEARS IN THE DEPARTMENT:  
1946-1977
RESEARCH INTEREST:
Economic Theory
BIOSKETCH:
Dwight Prescott Flanders was born March 14, 1909, in Rockford, Illinois. He received his bachelor's degree from the University of Illinois in 1931 with Bronze Tablet honors. Flanders returned to the University to complete a master's degree in 1937 after working as a realtor then as a teacher in the Rockford school district. In 1939, he completed his doctorate degree at Yale University.
After receiving his PhD, Flanders worked as a professor of economics at Syracuse University. In 1942, with World War II escalating both in Europe and in the Pacific, Flanders was stationed at the United States Military Academy in West Point, New York, where he continued teaching economics to cadets. By the time Flanders left West Point in 1946, he had achieved the rank of lieutenant colonel.
Flanders subsequently joined the faculty at the University of Illinois in 1947 after rejecting offers from other top schools such as Yale, Dartmouth College and Northwestern University. Upon his appointment, he served as the chairman of the University's master research seminar, where he ultimately ended up supervising over 800 Master's theses. In addition, he taught micro- and macro-economic theory to more than 3,000 graduate students, more than anyone else in the entire College of Commerce.
In addition to his extensive work with graduate students, Flanders served on over 260 committees during his time as a faculty member, and published over 70 scholarly works including "The Conceptual Framework for a Science of Marketing," and "Contemporary Foreign Governments". He was also a consultant for various government organizations, such as the U.S. State Department and the Illinois Department of Public Works and Buildings.
In 1977, Flanders retired from the University to become a Professor Emeritus of Economics. That same year, he also received an Excellence in Teaching Award from the University. After his retirement, he divided his time between his Champaign home and his residence in Three Lakes, Wisconsin. Dwight P. Flanders was deceased on August 14, 1994, at the age of 85.
PHD:
Yale University, 1939
SELECTED PUBLICATIONS:
Flanders, Dwight P. Science and Social Science. Champaign, Ill: Stipes Pub. Co, 1959. Print.
Flanders, Dwight P, and Melville C. Williams. The Collection of Rural Real Property Taxes in Illinois. Washington: U.S. Dept. of Agriculture, Bureau of Agricultural Economics, 1938. Internet

resource.

Flanders, Dwight P. Economics 400: I. Economics, & Ii. Areas of Economic Theory. Place of publication not identified, n.d.. Print.
Flanders, Dwight P. General Microeconomic Theory: Chapters I-X. , 1970. Print.
Flanders, Dwight P. Tax Delinquency and Tax Titles of Rural Real Property in Illinois. , 1937. Print.
OTHER LINKS/RESOURCES:
Dwight P. Flanders Papers at the University of Illinois Library Archives
VITA:
Not available