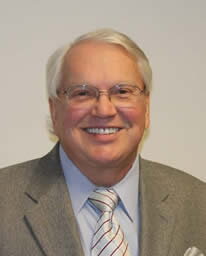 Paul and Cathy Boltz established the Paul W. Boltz Fellowship Fund to "attract, motivate, and reward graduate students in economics who show exceptional promise for careers in academia or business" in 1997.  In 2012, Paul and Cathy began making annual visits to the campus to host a luncheon with fellowship recipients. 
Before attending the University of Maryland for his undergraduate degree, Dr. Boltz served in the Army at the National Security Agency during the Vietnam War. He received his Master's in Economics in 1971 and his Ph.D. in Economics in 1974 both from the University of Illinois.  His PhD dissertation was titled:  "The Economic Impact of a Statewide Property Tax in Illinois". 
Paul's career accomplishments include:
Junior staff economics (public finance) for the Council of Economic Advsiors in the Ececutive Office of the President under the Nixon administration. 
Senior Economist at the Federal Reserve Board in Washington DC from 1973 to 1981.
Money Market Economist at Continental Illinois national Bank and Trust Co. in Chicago from 1981-1983
Chief Economist at T. Rowe Price in Baltimore, MD fro 1983-1998
Retired in 1998
Consultant at T. Rowe Price, 2001-2015
Service and Community involvement:
Served on the UI College of LAS Business Advisory Board
Served on the Economics Development Council Board for the UI Economics Department
Presented at the 100th anniversary of the Department of Economics seminar
Member of the Greater Naples Illini Club
He flew 75,000 miles a year to visit clients and give speeches before he retired in 1998 and moved to Naples, Florida with his wife, Catherine. Paul and Catherine have a son, Paul W. Boltz, Jr.
On February 2, 2015, Dr. Boltz passed away after a brief and unexpected illness. He was 71 years old.  His gregarious and genial personality are hugely missed by the many friends, family and colleagues that numbered many over the years.
The Department of Economics, College of LAS and the University of Illinois have immense respect and high regard for the Mrs. Cathy Boltz's decision to continue on with Paul's legacy toward supporting graduate student research in the field of economics and beyond. 
News related to Paul W. Boltz Award: