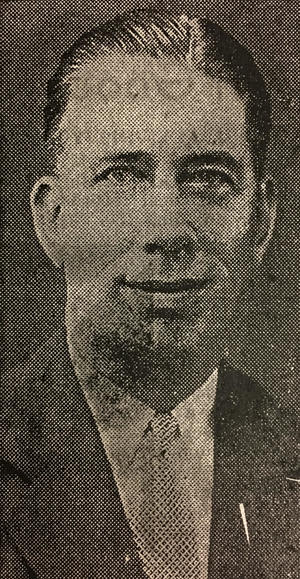 YEARS IN THE DEPARTMENT:   
1936-1950
RESEARCH INTEREST:
Comparative Economics
BIOSKETCH:
Ralph Hamilton Blodgett came to the University of Illinois as an Assistant Professor of Economics in 1936, and became a full professor in 1945. While at Illinois, Blodgett became known as one of the best economists in the state. He authored more than nine textbooks, and over 500 colleges and universities around the country were using one or more of his books by 1950.
The appointment of Howard Bowen to be Dean of the College of Commerce in 1947 caused a great bit of controversy for both Blodgett and the department as a whole. Bowen, a staunch supporter of Keynesian economics, hired many younger professors that shared his more liberal economic philosophies. This created a rift in the department between Bowen's new hires and professors like Blodgett that had been at the University prior to Bowen's arrival, who taught a more traditional form of economics.
As Dean, Bowen relieved Blodgett of many of his teaching duties, such as the graduate work he had been performing for over a decade and his oversight of the introductory course in economics. Blodgett was also told his graduate course in economic theory had to be revised because the course, according to Professor Donald L. Kemmerer, was not using the "modern tools of economics."
Professor Blodgett resigned from his position in 1950 due to what he saw as a limitation of academic freedom, causing the department to erupt into chaos. Long-time professors such as Kemmerer and H.K. Allen took Blodgett's side in the issue, which ultimately resulted in Bowen's removal as dean later that year. Many of Bowen's appointed professors followed him out of Illinois in the early 1950s.
After Professor Blodgett resigned, he accepted a position at the University of Florida, Gainesville, where he would teach until he retired in 1976. Ralph H. Blodgett died on December 19, 1988 in Gainesville.                           
PHD:
University of Pennsylvania, 1933
SELECTED PUBLICATIONS:
Blodgett, Ralph H. Principles of Economics. New York: Rinehart, 1946. Print
Blodgett, Ralph H. Our Expanding Economy: An Introduction. New York: Rinehart, 1955. Print.
Blodgett, Ralph H. Comparative Economic Systems. New York: Macmillan, 1944. Print.
Blodgett, Ralph H. Cyclical Fluctuations in Commodity Stocks. Philadelphia: University of Pennsylvania

Press, 1935. Print.

Gemmill, Paul F, and Ralph H. Blodgett. Economics: Principles and Problems. New York: Harper & Bros,

1942. Print.
OTHER LINKS/RESOURCES:
Not available
VITA:
Not available