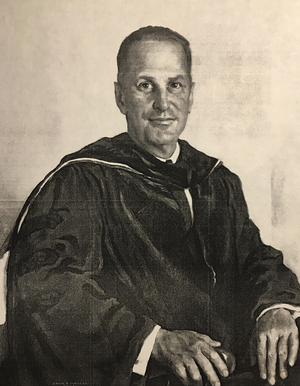 YEARS IN THE DEPARTMENT:   
1952-1984
RESEARCH INTEREST:
History of Economic Thought
BIOSKETCH:
Royall Brandis was born in Richmond, Virginia on March 8, 1920, and received his bachelor's degree from the University of Richmond in 1940. He then moved to Wilmington, Delaware, where he worked as a War Regulations Analyst for E.I. duPont de Nemours & Co. In 1943, he joined the U.S. Navy, and served in the Solomon Islands until 1946. Brandis went back to school after his service and enrolled at Duke University, where he earned his master's degree in 1947 and his PhD in 1952.
Brandis then joined the University of Illinois as an assistant professor of economics. During the early 1950s, much of his work focused on the relationship between the social sciences and the natural sciences. Brandis observed that while the methods used by the social sciences had their roots in the techniques developed by the natural sciences in the 19th century, the social sciences had not integrated the more modern research approach the natural sciences had adopted in the 20th century.
His work in this area earned him a promotion to associate professor in 1956 and to full professor in 1961. In the subsequent decades, Brandis received many professional honors from the University. He served as an elected member of the Executive Committee of the Department of Economics, a member of the local chapter of the American Association of University Professors, and a member of the College of Commerce's Committee of Educational Policy.
Brandis also served in many roles outside of the University as well. He served as President of both the History of Economics Society and the Midwest Economics Association. Additionally, he worked as a conferee with Chrysler Corporation, Eastman Kodak and Exxon Corporation. Professor Brandis would retire in 1984 and was named Professor Emeritus. Royall Brandis died on January 30, 2005, aged 84.
PHD:
Duke University, 1952
SELECTED PUBLICATIONS:
Brandis, Royall. Principles of Economics. Homewood, Ill: R.D. Irwin, 1968. Print.

Brandis, Royall. "Time Concepts in the History of Economic Thought: the Case of Stationary State."

Classical and Neoclassical Economic Thought: Selected Papers from the History of Economics Society Conference, 1987 / Edited by Donald A. Walker. (1989). Print.
Brandis, Royall, and Steven R. Cox. Current Economic Problems: A Book of Readings. Homewood, Ill: R.D.

Irwin, 1972. Print.

Brandis, Royall. Newton Vs Darwin in 19th Century Economics. Urbana, Ill.: College of Commerce and

Business Administration, University of Illinois at Urbana-Champaign, 1978. Internet resource.

Brandis, Royall. "The Price Level and The Value of Money." Essays in Honour of Marco Fanno. (1966).

Print.
OTHER LINKS/RESOURCES:
Royall Brandis Papers at the University of Illinois Library Archives
VITA:
Not available