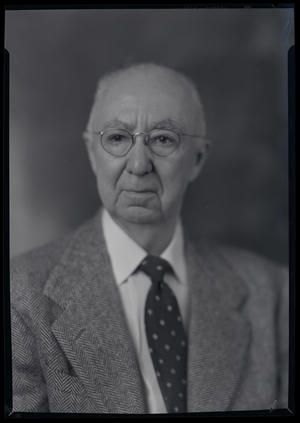 Years in the Department:
1916-1953
Research Interest: 
Economic Principles, Corporate Finance
Biosketch:
Pembroke Holcomb Brown came to the University of Illinois as a student in commerce in 1912, where he would complete his A.B. , M.A. , and Ph.D. degrees.
He would join the faculty of the Department of Economics in 1916, take his doctorate in 1923, and for the next 30 years, teach at Illinois. Throughout the 1920's and 1930's nearly every College of Commerce undergraduate student attended Professor Brown's lectures in economic principles, and he was hailed as an outstanding mentor to many graduate students right up to the last days of his career.
Although he published little, he would avail of himself in any number of capacities, and with the sudden loss of Merlin Hunter, would step in to serve as Acting Head of the Department of Economics from 1948-1949.
Professor Brown's contributions as a teacher, advisor and friend to legions of Illini were signally noted at his retirement in 1953. A man soft-spoken and quiet by nature, and of keen intellect, he would leave an impression of friendly warmth and calmness – a true scholar and gentleman – to all who came to know him at Illinois.
Dr. Bogart was deceased in 1973.
PHD:
University of Illinois, 1923
SELECTED PUBLICATIONS:
Brown, Pembroke H.

 

A Study of the Expansion of Corporations Through the Reinvestment of Earnings

. Urbana, Ill, 1926. Print.

Brown, Pembroke H.

 

The I.W.W. Movement., 1915. Internet resource.
Brown, Pembroke H. "The Federal Regulatory Commissions."

 

The Accounting Review, vol. 18, no. 3, 1943, pp. 244–248.
Other links/resources:
Not available
Vita:
Not available