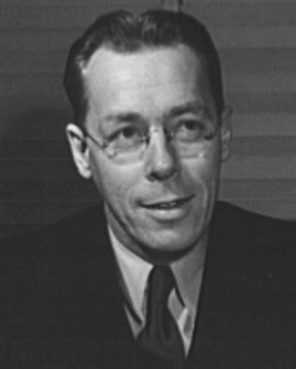 YEARS IN THE DEPARTMENT:  
1947-1966
RESEARCH INTEREST:
Labor Economics
BIOSKETCH:
William Ellison Chalmers was born in Brooklyn, New York on February 21, 1903. He received his bachelor's degree from Brown University in 1925 and his PhD from the University of Wisconsin in 1933. Before joining the University of Illinois, Chalmers briefly taught at the University of Pittsburgh, and subsequently worked for the U.S. Department of Labor during from 1934 to 1947. During his time with the government, Chalmers also served on the Social Security and the War Production boards.
Chalmers joined the University of Illinois in 1947 as a research associate professor at the Institute of Labor and Industrial Relations. In 1948, he was appointed an associate professor of economics in addition to his former position, requiring him to divide his time between the Department of Economics and the Institute. He served as the director for the Institute's graduate study program during the majority of the 1950s.
Throughout his career, Chalmers primarily focused his research on collective bargaining. Much of his work focused specifically on workers unions in the American automotive industry; Chalmers had worked closely with the AFL in Detroit following his time at Wisconsin. In his later career, his research focus grew to include issues relating to race and employment. Chalmers and his wife were active in the local Council for Community Integration since its inception in 1955.
In 1968, Chalmers announced that he was retiring from the University of Illinois to serve as the director of a new research project at the University of Michigan. The project, funded by the Ford Foundation, focused on racial confrontations and negotiations and took Chalmers three years to complete. He subsequently moved back to Champaign-Urbana, where he lived until his death on January 11, 1982, at the age of 78.
PHD:
University of Wisconsin, 1933
SELECTED PUBLICATIONS:
Chalmers, William E, and Gerald W. Cormick. Racial Conflict and Negotiations: Perspectives and First Case Studies. Ann Arbor: Institute of Labor and Industrial Relations, 1971. Print.
Chalmers, William E. Crucial Issues in Industrial Relations in Singapore. Singapore: D. Moore Press, 1967. Print.
Chalmers, William E, and Scott MacEachron. Master Agreements in Collective Bargaining. Urbana: University of Illinois, 1949. Print.
Aaron, Benjamin, William E. Chalmers, Jack G. Day, Milton Derber, Harry M. Douty, John T. Dunlop, Clark Kerr, Emmett B. McNutt, William H. McPherson, and John B. Parrish. Problems and Policies of Dispute Settlement and Wage Stabilization During World War Ii. [u.s. Bureau of Labor Statistics Bulletin No. 1009.]. Washington, DC: Verlag nicht ermittelbar, 1951. Internet resource.
Arensberg, Conrad M, Reinhard Bendix, jr W. Bloomberg, W E. Chalmers, Barbara D. Dennis, David Riesman, Abraham J. Siegel, Harold L. Wilensky, and James C. Worthy. Research in Industrial Human Relations: A Critical Appraisal. New York: Harper, 1957. Print.
OTHER LINKS/RESOURCES:
W. Ellison Chalmers Papers at the University of Illinois Library Archives
VITA:
Not available