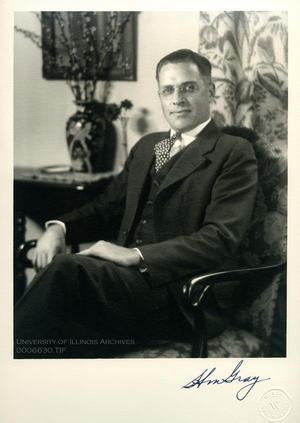 Years in the Department:
1923-1966
Research Interest: 
Transportation, Natural Resources, Public Utilities, Monopoly & Finance, Government Regulation
Biosketch:
Horace Montgomery Gray came to the University of Illinois in 1920 as an undergraduate student, where he would complete his B.A. , M.A. , and Ph.D. degrees.
In 1923, he would join the faculty of the Department of Economics, becoming as a foremost authority in the fields of Transportation and Public Utilities. Professor Gray was a contemporary of many of the people who established the College of Commerce, including Philip Locklin and H.W. Huegy. He took a special interest in his doctoral students, many of whom went on to establish distinguished careers, and assisted in administering the Graduate College at the university.
In 1955 he co-authored the renowned volume, "Monopoly in America – The Government As Promoter. " As consultant to many state and federal agencies, he was instrumental in forming policy on public utilities and utility regulation. In 1956, he served as President of the Midwest Economics Association. After a 43-year tenure, Professor Gray would retire in 1966, a devoted patron to his university and students, family and friends; and an exemplar of his profession.
Dr. Gray was born on June 29, 1898 in Coles County, Illinois and was deceased on December 1, 1986.
PHD:
University of Illinois
SELECTED PUBLICATIONS:
Adams, Walter, and Horace M. Gray.

 

Monopoly in America: The Government As Promoter. New York: Macmillan, 1955. Print.
Gray, Horace M.

 

Working Capital Requirements for Public Service Corporations. Urbana, Ill, 1927. Print.
Gray, Horace M. "The Passing of the Public Utility Concept."

 

Journal of Land and Public Utility Economics. 16.1 (1940). Print.
Gray, Horace M.

 

A Financial Study of the General Motors Corporation. , 1923. Print.
Gray, Horace M.

 

Privileged Monopoly in Water Resources. , 1964. Print.
Other links/resources:
Horace M. Gray Papers from the University of Illinois Library Archives
Vita:
Not available