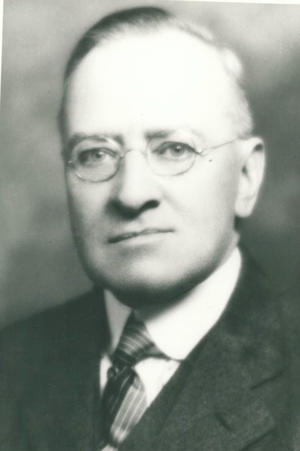 Years in the Department:
1897-1905
Research Interest: 
Money Market, Labor, Tariff, and Monopoly Problems; and Theories of Value, Production and Distribution
Biosketch:
Matthew Brown Hammond came to the University of Illinois in the fall of 1897, the first Instructor to be requested by Dr. David Kinley to join the Department of Economics.  He completed his Ph.D. at Columbia University.
The rapid growth of the Department of Economics from 18 students in 1893 to 180 in 1897 would necessitate additional faculty.  M.B. Hammond's arrival enabled the department to offer seven additional undergraduate courses and two new graduate courses his first year.  These courses covered such topics as money market, labor, tariff, and monopoly problems; and theories of value, production and distribution.
Over the next five years, only minor curriculum changes in the Department of Economics would occur.  It was not until 1902 that significant expansion would take place with the inauguration of the Courses of Training for Business.  M.B. Hammond would leave Illinois for Ohio State University in 1905. 
PHD:
Columbia University, 1898
SELECTED PUBLICATIONS:
Hammond, M B, and M B. Hammond.

 

The Cotton Industry: An Essay in American Economic History

. New York: Johnson Reprint Corp, 1966. Print.

Hammond, M B.

 

British Labor Conditions and Legislation During the War. New York: Oxford University Press, 1919. Print.
Hammond, M B.

 

Railway Rate Theories of the Interstate Commerce Commission. Cambridge: Harvard University, 1911. Internet resource.
Hammond, M B.

 

The Financial History of Wisconsin Territory. Madison: State Historical Society of Wisconsin, 1894. Print.
Hammond, M B.

 

The Regulation of Wages in New Zealand. Cambridge: Harvard University Press, 1917. Print.
Other links/resources:
Matthew B. Hammond's Wikipedia Page
Vita:
Not available