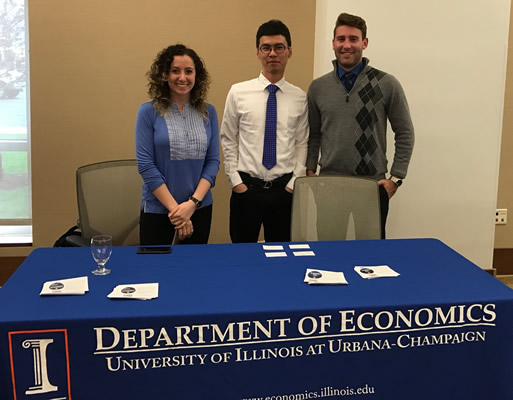 Current students in the University of Illinois Economics Department were well represented at the on-campus Recruiters' Forum on April 4. Members of both the Illini Women in Economics, known as iWiE, and the Economics Club were invited to attend the event and show what their members can offer employers.
"By going to the Recruiter's Fair, iWiE was hoping to make new connections with companies who would be willing to educate us about what potential careers are out there for econ majors," said Mya Khoury, iWiE's representative at the event.
"I personally wanted to meet the representatives of attending companies so I could have an experience with them and learn about myself through them," Boyu Lin of Economics Club said. "Since I am the professional development chair (of Econ Club,) I want to work with these companies, doing things such as inviting them to give us a business talk." 
The Recruiters' Forum is an annual event designed to help companies learn new ways to recruit at the University's campus. This years' event, the ninth such forum, was specifically focused on helping recruiters successfully engage current students. Khoury said it was a new experience for both her and iWiE.
"My RSO has never attended anything like this before, so we thought we might as well try it out even if it might be unsuccessful," she said. "However, this event lived up to its expectations and we got exactly what we hoped out of it."
The day long program featured a talk from Will Murphy, an HR Manager and Talent Specialist of Amgen Inc. There was also a panel headed by the University's Career Center where recruiters could direct specific questions.
Student involvement was a major part of the fair. Student leaders from five different colleges led another panel to give their thoughts regarding the best ways to engage Illini before they graduate to the visiting recruiters.
Additionally, after being introduced by University Chancellor Robert Jones, students from each of the invited registered student organizations, called RSOs, gave brief "lightning introductions" to the recruiters. In all, 21 RSOs were invited, including iWiE and Economics Club. Lin said meeting the leaders of the other student groups was a highlight for him.
"Meeting other clubs in this event helped me make connections with them and gave us opportunities to organize events with them in the future," Lin said. "We shared our contact information and talked about our plans next semester. We'll try to collaborate events with each other."
There was then an opportunity for recruiters to connect with these students by visiting their RSO's table. More than 60 recruiters from over 50 companies registered to attend the event. For Khoury, being on the other side of a career fair table made it easier to talk to recruiters.
"It felt odd being on the other end of a career fair and made me less nervous around the recruiters," Khoury said. "I was more open to conversation instead of worrying if they'll like me or not."
The event was a big success for Econ Club, Lin said. One of the other members representing the club managed to get an internship offer, and Lin himself made numerous connections with recruiters. He said Econ Club will certainly attend events like the Recruiters' Forum in the future.
"Similar events are our opportunities," he said. "We are happy to attend them."
Khoury echoed Lin's feelings, and fully expects iWiE to be involved in similar recruiting activities in the future.
"I am positive that my RSO will attend more events like this," she said. "We already have events lined up for next semester and for recruiters who are looking to hire mostly econ students!"
Alumni that function in the recruiting role for their companies are also welcome to attend this fair and others in the future.  To find out more contact Brian Neighbors, Senior Assistant Director for Employer Connections in The Career Center at the University of Illinois at bneig2@illinois.edu or contact Marsha Hatchel in the Economics' Alumni Relations Office at hatchel@illinois.edu.