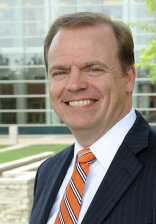 Contact Information
260E Wohlers Hall
1206 South Sixth Street
Champaign, IL, 61820
Research Areas
Josef and Margot Lakonishok Professor of Business
Dean of the Gies College of Business
Professor of Finance
Biography
Jeffrey R. Brown is Josef and Margot Lakonishok Professor of Business and Dean of the College of Business at the University of Illinois at Urbana-Champaign. He also serves as the Director of the National Bureau of Economic Research (NBER) Retirement Research Center in Cambridge, MA.  He previously served as the founding director of the Center for Business and Public Policy at the University of Illinois. 
Dean Brown holds a PhD in economics from the Massachusetts Institute of Technology, a masters of public policy degree from Harvard University, and bachelor's degrees in economics and political science from Miami University. He is a research associate of NBER, a faculty affiliate of the Institute on Government and Policy Affairs, and a fellow of the TIAA-CREF Institute.
Brown serves as a trustee for TIAA, a Fortune 100 financial services company, and currently chairs the TIAA audit committee. He is also a member of the Governing Board for the Center for Audit Quality (CAQ) in Washington, DC.  He serves as Vice Chair of the Board of Managers of UI Singapore Research LLC.  He is also a member of the advisory board for the Tax Policy Center, a joint initiative of the Brookings Institution and the Urban Institute.  He previously served on the board of the American Risk and Insurance Association.
Prior to joining the Illinois faculty, Brown was an assistant professor of public policy at Harvard University's John F. Kennedy School of Government. From 2001-2002, he served as senior economist at the White House Council of Economic Advisers. In 2001 he also served on the staff of the President's Commission to Strengthen Social Security. In 2006, President Bush nominated, and the Senate confirmed, Brown as a member of the bipartisan Social Security Advisory Board.  He also served on the 2015 Social Security Technical Panel.
Brown has published extensively on public and private insurance markets, including articles in The American Economic Review, The Journal of Political Economy, The Journal of Finance, The Journal of Financial Economics, and numerous other journals and books. He is the recipient of the Lumina Award for Outstanding Research in Insurance and E-Commerce, the Paul A. Samuelson Award for Outstanding Scholarly Writing on Lifelong Financial Security, the ARIA Early Career Scholarly Achievement Award, and the RIIA Achievement in Applied Retirement Research Award. He was also named a University Scholar by the University of Illinois in 2011.
Brown has edited four books, the most recent of which explores how the Great Recession affected higher education. He is a co-founder and former co-editor of The Journal of Pension Economics and Finance and an associate editor of The Journal of Risk and Insurance. He has served as a consultant to numerous federal government agencies as well as many of the leading US financial services firms. Prior to graduate school, he was a brand manager at the Procter & Gamble Company.
Research Interests
Financial economics, public policy, employee benefits
Research Description
Primary research focus is on the interaction of public and private insurance markets with a specific emphasis on retirement security, including annuities, life insurance, long-term care insurance, pensions and Social Security. Additional research interests include stock market participation, dividend taxation, and the effect of inheritances on labor supply.
Education
Ph.D., Economics, Massachusetts Institute of Technology, 1999
M.P.P., Public Policy, Harvard University, 1995
B.A., Economics and Political Science, Miami University, 1990
Awards and Honors
Health and Aging Fellow, NBER & National Institute on Aging, 1997-1998
Additional Campus Affiliations
Dean, Gies College of Business
Josef and Margot Lakonishok Endowed Professor & Deanship, Gies College of Business
Professor, Finance

External Links
Recent Publications
Brown, J. R., Kapteyn, A., Luttmer, E. F. P., Mitchell, O. S., & Samek, A. (2021). Behavioral impediments to valuing annuities: Complexity and choice bracketing. Review of Economics and Statistics, 103(3), 533-546. https://doi.org/10.1162/rest_a_00892
Brown, J. R., & Huang, J. (2020). All the president's friends: Political access and firm value. Journal of Financial Economics, 138(2), 415-431. https://doi.org/10.1016/j.jfineco.2020.05.004
Brown, J., Choi, J., Coile, C., & Woodbury, R. (2020). Research to inform policy: Contriributions of the mathematica center for studying disability policy. Social Security Bulletin, 80(1), 31-40.
Brown, J. (2020). The Hazards and Opportunities of Managing Rapid Change. BizEd, 19(6), 1-6.
Brown, J. R., Kapteyn, A., Luttmer, E. F. P., Mitchell, O. S., & Samek, A. (2019). Behavioral Impediments to Valuing Annuities: Complexity and Choice Bracketing. (IZA Discussion Papers; No. 12263). Institute of Labor Economics (IZA). https://ideas.repec.org/p/iza/izadps/dp12263.html