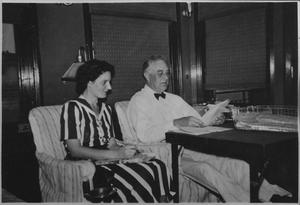 YEARS IN THE DEPARTMENT:   
1948-1951
RESEARCH INTEREST:
Statistics
BIOSKETCH:
Dorothy Stahl Brady was born in Elk River, Minnesota on June 14, 1903. She earned her bachelor's degree from Reed College in 1924, her master's degree from Cornell University in 1926, and her doctorate from the University of California at Berkeley in 1933. Her career started with teaching mathematics at Vassar College from 1926-27. She then moved to New York University, where she taught from 1928-1930.
After receiving her PhD, Dr. Brady entered the government sector, working as a home economics specialist in the Bureau of Human Nutrition and Home Economics from 1936-1943. She later served as the chief of the Bureau of Labor Statistics' cost of living division where she worked on calculating the Consumer Price Index.
Dr. Brady joined the University of Illinois in 1948, as part of a new group of young, promising economists hired by Dean Howard R. Bowen to revitalize the Department of Economics. This new group, who mainly adhered to the newly developed Keynesian form of economics, created a rift with the existing faculty in the department who taught the neoclassical form economics. The dispute ultimately ended in Bowen resigning as Dean, and many of his appointees, including Brady, leaving the University in the early '50s.
After leaving the University, Dr. Brady rejoined the Bureau of Labor Statistics in 1951. She worked there until 1958, when she became a Professor of Economics at the Wharton School at the University of Pennsylvania. She retired from teaching in 1970, and moved to Arkville, New York, where she remained active in studying economic history. Dorothy Brady died at her home in Arkville on April 17, 1977.
PHD:
University of California at Berkeley, 1933
SELECTED PUBLICATIONS:
Brady, Dorothy S. Age and the Income Distribution. Washington: For sale by the Supt. of Docs., U.S. Govt.

Print. Off., 1965. Print.

Brady, Dorothy S. Changes in Assets and Liabilities of Families: Five Regions. Washington, D.C: U.S. Dept.

of Agriculture, 1941. Print.

Monroe, Day, Dorothy S. Brady, June F. Constantine, and Karl L. Benson. Family Expenditures for Automobile and Other Transportation: Five Regions. Washington, D.C: U.S. Dept. of Agriculture,

1941. Print.

Goldsmith, Raymond W, Dorothy S. Brady, and Horst Mendershausen. A Study of Saving in the United States: 3. Princeton (New Jersey: Princeton Univ. Press, 1956. Print.
Brady, Dorothy S. Research in the Size Distribution of Income. Place of publication not identified, 1949.

Print.
OTHER LINKS/RESOURCES:
Not available
VITA:
Not available