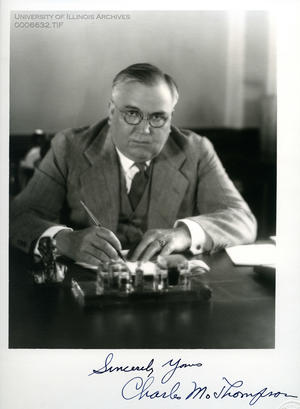 Years in the Department:
1916-1942
Research Interest: 
Economic Theory
Biosketch:
Charles Manfred Thompson came to the University of Illinois as a student in commerce in the summer of 1906, where he would complete his B.A. degree in one year, followed by his M.A. and Ph.D. degrees. He joined the faculty of the Department of Economics in 1912.  Over the next six years, Dr. Thompson would attain a record of advancement unequalled by any of his colleagues, holding the positions of instructor, associate professor, professor, director of department, and Dean of the College of Commerce and Business Administration.
As Dean from 1919 until his retirement in 1942, Dr. Thompson directed the college to an enviable position among the best business schools in America, developing it to be one of the first to follow a bachelors degree with graduate work, and establishing the Bureau of Economic  and Business Research in 1921.  In his own words, Dean Thompson kept in the forefront "the turning out of students who were not mere sharpeners of tools but makers of tools."
Few, if any men in academic life had a more outstanding record in public service.  An international authority in Chamber of Commerce activities, 16-year Director of the Illinois Chamber of Commerce, President of the UI Alumni Association and Foundation, and a public-spirited citizen in his half-century service to the YMCA and community, Dr. Thompson exemplified perfectly the motto of his service club:  He Profits Most Who Serves Best.
PHD:
University of Illinois, 1913
SELECTED PUBLICATIONS:
Bogart, Ernest L, and Charles M. Thompson.

 

Readings in the Economic History of the United States. New York: Longmans, Green and Co, 1916. Print.
Thompson, Charles M.

 

The Illinois Whigs Before 1846. Urbana: Pub. under the auspices of the Graduate school by the University of Illinois, 1915. Print.
Thompson, Charles M.

 

Elementary Economics: With Special Reference to Social and Business Conditions in the United States. Chicago: B.H. Sanborn & Co, 1919. Print.
Bogart, Ernest L, and Charles M. Thompson.

 

The Industrial State, 1870-1893. Springfield: Illinois Centennial commission, 1920. Print.
Thompson, Charles M.

 

History of the United States: Political, Industrial, Social. Chicago: Benj. H. Sanborn & Co, 1917. Print.
Other links/resources:
Charles M. Thompson Papers at the University of Illinois Library Archives
Vita:
Not available