B.A., Economics, University of Illinois
J.D., University of Chicago Law School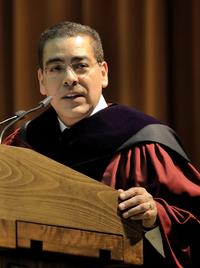 Jesse H. Ruiz is a partner in Drinker Biddle & Reath's Corporate and Securities Group, serves as the firm's Marketing Partner, and is a member of the firm's Client Service Committee. Drawing on his experiences in business and management consulting, and his work in the public sector, Jesse also counsels public and privately­held companies and entrepreneurs on strategic initiatives and transactions.
In 2011, the Walmart Legal Department awarded Jesse its inaugural Walmart Legal Spark Award for "outstanding client and community service and dedication to diversity in the legal profession.
Since 2006, Jesse has served as a member of the board of directors of Commonwealth Edison, an Exelon Company.
Jesse is legal counsel to the fourteen Illinois senators and representatives who formed the Illinois Legislative Latino Caucus and the Illinois Legislative Latino Caucus Foundation. In 2003, and again in 2009, he received the Foundation's Leadership Award for providing legal counsel to both the Foundation and the Caucus, and assisting in the formation of both organizations.
In May 2011, Chicago Mayor Rahm Emanuel appointed Jesse the Vice President of the Chicago Board of Education. The Board oversees the operations of the Chicago Public Schools, the third largest school district in the nation.
U.S. Secretary of Education Arne Duncan appointed Jesse to the U.S. Department of Education Equity and Excellence Commission in February 2011.
Prior to accepting the Mayor's appointment to the Chicago Board of Education, Jesse served as chairman of the Illinois State Board of Education from September 2004 to May 2011. He previously served on the Chicago Public Schools Desegregation Monitoring Commission.
In August 2013, Jesse was appointed by the president of the ABA to the Commission on Hispanic Legal Rights and Responsibilities.
He is past president of the Hispanic Lawyers Association of Illinois and Past Chairman of the Hispanic Lawyers Scholarship Fund of Illinois. He is also Past Chairman of the Chicago Committee on Minorities in Large Law Firms. He has taught corporate law as an Adjunct Professor of Corporate Law at John Marshall Law School. He also serves on several other civic and charitable boards and committees.
Jesse Ruiz was also named "Illini of the Year for 2013".