B.S. Economics, University of Illinois
J.D., Iowa College of Law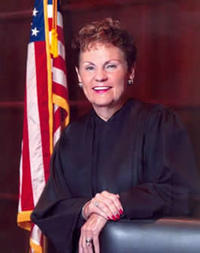 Chief Justice of the Illinois Supreme Court Rita B. Garman was born in Aurora, Illinois, and grew up in Oswego, where she graduated from Oswego High School as valedictorian of her class. The youngest of three children, she followed her sister to the University of Illinois, where she initially considered following a joint degree program in Economics and Law, until her advisor suggested that admission to the law school component might be difficult for a young woman.
Focusing her attention on her studies in the College of Commerce, she received her Bachelor of Science degree in Economics, with highest honors, in 1965. During her undergraduate years, she earned numerous awards including Bronze Tablet, Beta Gamma Sigma, Mortar Board, Top 10 in Commerce, and Alpha Lambda Delta. While at the University of Illinois, she also met her future husband, Gill M. Garman of Urbana.
Rita and Gill attended the University of Iowa College of Law together and married after their second year of law school. They graduated in 1968. When they were sworn in as members of the Illinois bar, their photograph appeared in the Illinois Bar Journal due to the novelty of having spouses admitted to the bar. The caption read "Mr. and Mrs. Gill M. Garman," much to the chagrin of her father, who wanted to see the name "Rita Bell Garman" in print.
She began her practice of law in Danville, Illinois, with the Vermilion County Legal Aid Society. Later, she became an Assistant State's Attorney and, in 1973, began the private practice of law with the firm of Sebat, Swanson, Banks, Lessen & Garman in Danville. In 1974, she was appointed Associate Circuit Judge for the Fifth Judicial Circuit. She was the first woman to serve in this capacity. After twelve years in this position, Justice Garman was elected Circuit Judge, and from 1987 to 1995, she was the Presiding Judge for Vermilion County. She was assigned in 1995 and elected in 1996 to the Fourth District Appellate Court, which encompasses thirty counties in central Illinois, extending from the Indiana border to the Iowa border. Again, she was the first woman to hold this position.
Justice Garman was appointed to the Illinois Supreme Court in 2001 and elected to a ten year term in 2002. This election was a milestone for women in the Illinois judiciary because, for the first time, both of the candidates were women. In 2012, she was retained for another ten-year term. In 2013, she was chosen by her colleagues to serve a three-year term as Chief Justice. She was sworn in on October 28, 2013, and is the second woman Chief Justice, the late Mary Ann McMorrow having been the first.
Justice Garman resides in Danville. Her husband, Gill, passed away in 2014. They have two children, Sara Doyle, a University of Illinois graduate and mother of two, and Andrew Gill Garman, a University of Iowa graduate and the father of one.
Photos:
If there is a photo you wish to have removed, please contact Marsha Hatchel at hatchel@illinois.edu
Photo credits:  Marsha Hatchel, Economics Department; T. Miller Brown Photography; GradImages Photography
Videos:
Thank you to Special Guest Speaker: Chief Justice Rita Garman. Also a huge thank you to the other alumni who participated in the convocation ceremony: The Honorable Rick Winkel, Jack Pierce, Gene Miller, and Ben Deese.